RTI/MTSS
Ensure Equity and Access for All Students
Across Tiers 1 to 3.

Solve implementation obstacles with Let's Go Learn's next-generation RtI/MTSS Solutions
All students must participate in universal screenings to determine academic strengths and gaps. However, if assessment data indicates extra attention is necessary, and students fall within RtI Tier 2 and 3 categories, teachers must administer additional one-on-one diagnostic assessments for each student to determine the appropriate services and support. This is no easy task. Additional assessments are time-consuming and can cut into valuable instruction time for students and teachers. Further, many assessments only spotlight a need for intervention, but cannot provide insight into why a student is struggling or what steps to take next.
With Let's Go Learn, teachers can provide all students with diagnostic assessments during universal screenings. Educators can accurately identify students in need, and diagnosis any challenges during a single assessment. Across assessment and instructional solutions, the platform provides the diverse classrooms of today with granular data to determine each student's needs and allows teachers to truly individualize support.
Support and enhance all components of academic RtI/MTSS implementations
The Let's Go Learn platform produces narrative reports to describe each student's strengths and weaknesses, so teachers can address the unique needs of students within Tiers 1, 2, and 3. With actionable data, educators can effectively implement personalized learning via daily automatic flexible grouping, scaffolding for whole-class learning, and personalized intervention. Real-time student reports allow teachers to adjust a student's learning path, develop IEPs, and communicate progress with key stakeholders.
The platform's data warehouse reporting engine supports site- and district-wide reporting for personalized learning communities (PLC) data meetings, curriculum planning, program effectiveness monitoring, and more.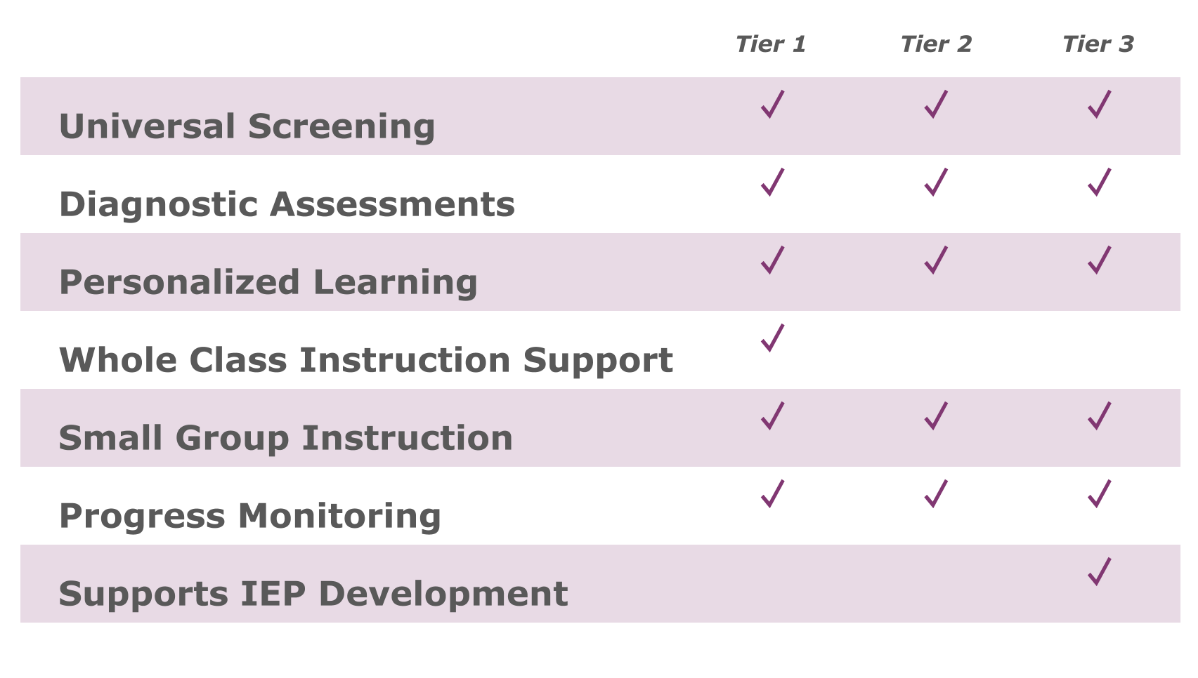 Effectively target student intervention needs and monitor progress across Tiers 1, 2, and 3.