K-12 Education Reform: A New Paradigm
Foreword by Richard Capone and Dr. Kurt Hulett
Today, the education reform movement is more important than ever before. The many protests in 2020 on policing methods (Black Lives Matter, etc.) refocused the national conversation on institutional bias and inequity. This in turn has focused a spotlight on K-12 education reform, with an emphasis on equity in education.
This Let's Go Learn page provides descriptions of a wide variety of education reforms as well as our own interpretation of where the reform movement is today.  In particular, we will identify ways in which today's digital technology is transforming past reforms with the scalable improvement of educational systems.
As always with education reform movements, educators will continue to question the very bricks of their buildings: the lesson plans they were taught to use, the structure under which they teach, and both traditional and innovative initiatives. It is this questioning, ongoing reflection, and willingness to adopt new technologies that allow teachers and schools to close achievement gaps and accelerate learning for all students.
The national protests in 2020 on policing refocused the education reform movement on institutional bias and achievement of equity.
Explore...
Reform your school!
Let's Go Learn provides data-driven, personalized, online assessment and instruction products used by millions of students. Try best-of-breed math and reading diagnostics, engaging instruction, a Dyslexia Screener, and more...
Explore...
K-12 Education Reform: A New Paradigm
Historical Perspective on Education Reform
US school reform movements, policies, and priorities have zigged and zagged since the common-school movement in the 1830s led the way to education for all children.
The reform efforts of the 1950s were not about standards or assessment; rather, they were about access and social equality. It was during this period that the Civil Rights movement catalyzed modern American education reform as leaders began to tackle the inequity caused by poverty, disability, and segregation of children of color.
In 1954, the first major piece of Civil Rights legislation was passed, granting all students the right to attend public school: the 1954 Brown v. Board of Education of Topeka, Kansas decision. In this case, the Justices found the practice of racial segregation to be unconstitutional. It stands as one of the most important Supreme Court cases of the 20th century.
Color and ethnicity weren't the only criteria for segregation. Students who were markedly different from the traditional norm were also excluded and treated as less than the whole.  For example, students with disabilities were often removed from classrooms, losing their inherent right to an education.  For this reason, many of the major reform policies of the 1950s to 1970s were about granting access to education to children of color or children with disabilities.
Young students picketing outside the Seward Park High School on the lower East Side during the 1964 New York City School Boycott.
Robert Joyce papers, 1952-1973, Historical Collections and Labor Archives, Special Collections Library, University Libraries, Pennsylvania State University.
During the Civil Rights movement, color wasn't the only criterion for segregation. Students with disabilities were also excluded and treated as inferior.
Key Milestone Outcomes of the Modern American Reform Efforts
A timeline of modern reform movements include the following actions:
Equity and Access in Education
Often policymakers, school administrators, and parents don't recognize the distinction between equity and equality.  To reform education and ensure academic achievement for all students, the focus must be on equity.
Equality means giving every person the same resources regardless of need. Equality means giving every student in a grade level the same exact tools and assignments. Unfortunately, this ensures that students performing below grade level will falter and then fail. For example, in a system designed to provide equality, all fifth-grade students might be given a grade 5 math book and a grade 5 math teacher. In this scenario, many students will falter and fail because they have not mastered objectives that are foundational to grade 5 standards. Additionally, students who are performing above grade level might lose interest and their performance might suffer.
Equity means giving every person the resources they need. Equity means giving each student what they need to achieve grade-level success. For example, equity means that before instruction begins, teachers must discover what each student needs to close learning gaps so that they can master grade-level instruction. To achieve equity, individual students might need specially designed programs or experiences. Struggling students must be able to master fundamental concepts: mathematics concepts, scientific concepts, and language and literary concepts. On the other hand, students who have already met grade-level standards need specially designed programs or experiences to continue learning above grade-level standards. The negative impact of using the concept of equality, rather than equity, in our elementary schools, middle schools, and secondary schools can be devastating. In contrast, equity ensures that each student receives a high-quality education and is career-ready or college-ready.
How does equity differ from equality?
Roll over to see
Equity vs. Equality
If you give every student in a grade level the same exact tools and assignments, that's equality, but unfortunately, this ensures that students performing below grade level will falter and then fail.
Equity means giving each student what they need to achieve grade-level success.
Equity also means giving every student access to resources they need to achieve. Access entails discovering what each child needs to succeed. In special education, this is called Child Find: a system or process in place to  locate and evaluate all children with disabilities, regardless of the severity of their disabilities. For students who don't qualify for special education but who have learning gaps in grade-level outcomes, a process must be in place to find and close gaps.
Equity requires a two-pronged effort: a process to find students who need individual resources to succeed and programs that provide resources that support all students.
Resources Designed for Specific Special Education Needs
Today's reform movement in the Special Education environment is focused on creating tools and programs that benefit students with disabilities rather than retrofitting those designed for general education students.
For far too long, special education departments at the district and building levels have been treated as second-class citizens.  Traditionally, the only systems of paper and digital assessment for special education are those used for general education.  For example, if a district adopts NWEA or STAR to do summative high-level screening and assessment, then educators in the special education department may also get access.
The flaw in this approach is that what is needed by general educators is often very different from what educators in special education need.  For example, educators in special education need highly diagnostic tools that determine a child's grade-level equivalent in each skill taught across the curriculum. They can then use Specially Designed Instruction that iterates until the Zone of Proximal Development (ZPD) is found. If these educators are only able to use NWEA and STAR, the data they receive will simply reveal whether a grade-level standard has been mastered.
Let's Go Learn's system uses diagnostic data with Artificial Intelligence (AI) to assign specially designed instruction (SDI) to address each student's learning gaps. With a few clicks, teachers can assign our built-in formative tests and assessments to individual students at regular intervals. These assessments ensure not only that students have mastered learning objectives, but that Free Appropriate Public Education (FAPE) compliance is met. This next-generation system then takes the student assessment data and automatically updates the student learning path in real-time.
Issues with Ensuring IEPs Are Truly Individualized
When the Education of All Handicapped Children's Act was passed in 1975 (renamed Individuals with Disabilities Education Act [IDEA] in 1990), it required that schools taking federal money provide equal access to education to all children. At its core, this reform required that schools create Individual Education Plans/Programs (IEPs) for each child with disabilities.
The expectation is that each child will have a truly individualized and hand-crafted educational program aligned to their unique deficits and needs.  Although many advocates agreed with the Act's language and intention, many questioned whether it was truly feasible to individualize the education of millions of students with disabilities nationwide.
Nearly 50 years after IDEA's initial passage, the jury is still out on whether children with disabilities receive the support, resources, and tools they need. Technology has allowed many advances but does not always improve the status quo and close achievement gaps.  In fact, if not used correctly, technology can cause us to regress.  For example, researchers have found many IEPs labeled with the wrong name. Why is this important? It can mean that practitioners are copying and pasting language from one IEP to the next because they have multiple students, tasks, and requirements to complete. However, this practice violates the premise and principle of individualization. Technology has made it very easy to lift language from one IEP and move it to several others. Ironically, a lack of technology actually forced us to be more individualized.
All this said, however, technology does have the capacity to accelerate special education more than any other single entity or advancement. Let's Go Learn's digital system reflects best practices in applying technology to advanced tasks. The system provides highly diagnostic tools with its granular digital diagnostic assessment. Diagnostic reporting is organized to support Individualized Education Program (IEP) requirements: goals, benchmarks, and PLAAFP/present level equivalencies for all subskills. With next-generation tools, teachers can focus on creating the optimal individualized plan rather than on statistical analysis.
Multi-Tiered System of Support and Response to Intervention
Multi-tiered System of Support (MTSS) and Response to Intervention (RTI) serve students' academic needs. Today we are seeing that many districts and school leaders are concerned about equity or simply implementing RtI or MTSS with fidelity.  They realize that they need better data with a new generation of diagnostics that actually provide useful information. They ask what type of assessment is best. Unfortunately, many educational assessments on the market today may be adaptive or advertised as being diagnostic but are not at the level required to inform instruction for at-risk students.
Assessments that use summative scores, such as single numbers in major areas, and then make comments like "Students are developmentally ready to learn…" or "Students should be able to…" are doing a disservice to schools and districts by attempting to apply this data to individual student pathways. This is technically a faux-pas and arguably ethically wrong as well.
Another simple step administrators are taking is to adopt classroom assessments that teacher review teams find useful for their classrooms.  Fortunately, diagnostic assessment scores can generally be rolled up to provide summative data.  But the converse is not true.  Summative data (such as readability scores, just a fluency rate, or math strand scores) do not inform individual student gaps and intervention prescriptions.
Finally, another way to address this issue is to adopt the special education process.  Does this data determine a student's present levels of achievement?  Can we as a district administer an online assessment that will adapt up and down across K-8 skills and concepts and find each student's present level (and thus each student's zone of proximal development, which is one skill/concept above) easily and accurately?  This is the new gold standard that will ensure equity and break the cycle of institutional bias.  Make no mistake: failure to implement the best assessments to support classroom teachers perpetuates institutional bias, which hurts the neediest populations of students and contributes to disproportionality.
Multi-Tiered System of Support
Each state may have its own version of a multi-tiered system of support, but basically, the systems provide frameworks that focus on national and state standards, differentiated and student-centered learning, and individualized student needs. The general goal is to ensure that academic, behavioral, and social systems are integrated to best support the success of every student.
Response to Intervention
All students must participate in universal screenings to determine academic strengths and gaps. However, if assessment data indicates extra attention is necessary and students fall within RTI Tier 2 and 3 categories, teachers must administer additional one-on-one diagnostic assessments for each student to determine the appropriate services and support. This is no easy task. Additional assessments are time-consuming and can cut into valuable instruction time for students and teachers. Further, many assessments spotlight a need for intervention but cannot provide insight into why a student is struggling or what steps to take next.
With Let's Go Learn, teachers can provide all students with diagnostic assessments during universal screening. Educators can accurately identify students in need and diagnose any challenges during a single assessment. Across assessment and instructional solutions, the platform provides the diverse classrooms of today with granular data to determine each student's needs and allows teachers to truly individualize support.
The Let's Go Learn platform produces narrative reports to describe each student's strengths and weaknesses, so teachers can address the unique needs of students within Tiers 1, 2, and 3. With actionable data, educators can effectively implement personalized learning via daily automatic flexible grouping, scaffolding for whole-class learning, and personalized intervention. Real-time student reports allow teachers to adjust a student's learning path, develop IEPs, and communicate progress with key stakeholders.
A powerful process for reaching students who need intensive intervention (Tier 3 in RTI and MTSS) is data-based individualization (DBI). The process begins with diagnostic assessment data from a research-based assessment such as Let's Go Learn's DORA and DOMA, which evaluate a content-specific area of concern. The diagnostic data drives the implementation of a validated intervention, such as Let's Go Learn's Math Edge or ELA Edge. Frequent progress monitoring with formative assessments that re-align the intervention to current student performance ensures the effectiveness of DBI.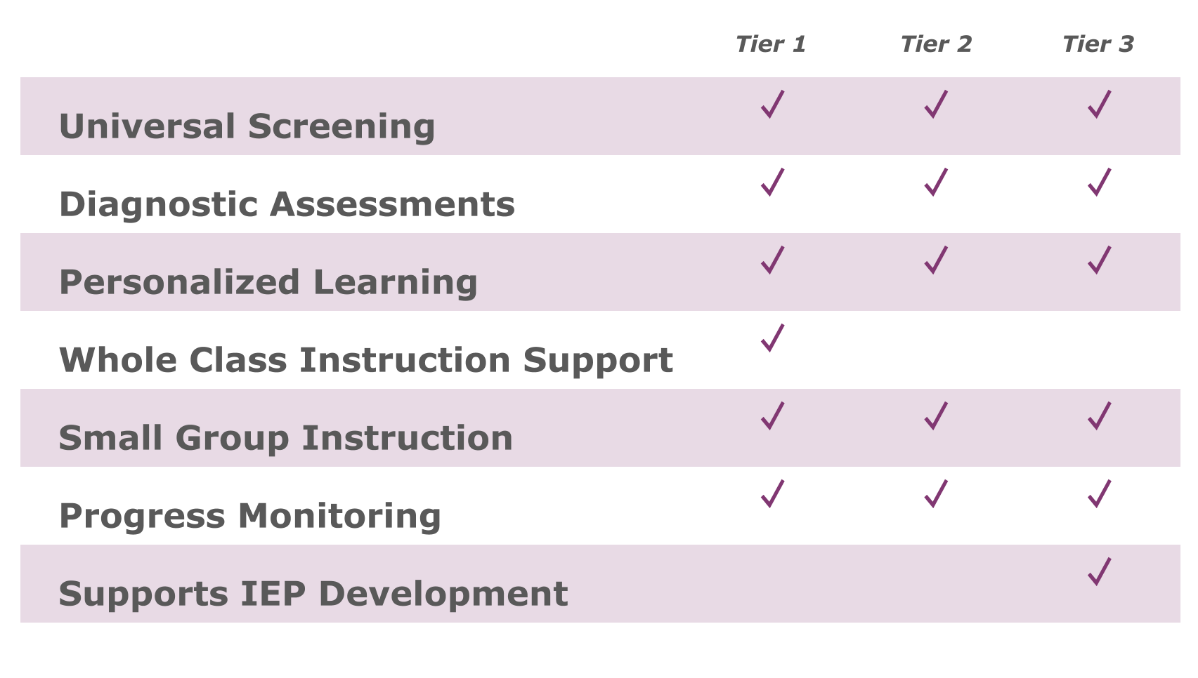 Standards Assessments versus Diagnostic Assessments
What is the best type of assessment for your educational system? There is a role for standards-based testing and a role for true adaptive diagnostic assessment that finds students' zones of proximal development. Standards-based testing in the classroom has been the de facto method for K-12 educational testing. In this scenario, state standards set the target for teachers to teach towards and students to work towards.  Administrators use interim assessments–sometimes by the states themselves, sometimes another benchmark test for quarterly evaluation of students.  They get a concrete indicator of where students stand in terms of the ultimate state testing that will happen in the spring, while teachers use the data to guide instruction. A significant drawback of this type of testing, however, is that it can lead to or perpetuate institutional bias that undermines equity.
A significant drawback of standardized testing is that it can lead to or perpetuate institutional bias that undermines equity.
Because students may not be proficient in grade-level standards, using a test focused on those standards may contribute to a vicious cycle of struggling students continuing to struggle until failure is a guarantee. Standardized assessments do not support equity or inform instruction. Teachers do not know where their neediest students' gaps may lie when testing focuses only on concepts that are within one year of a student's actual grade level.  Would it make sense to use a French 3 test to evaluate first-year French students?  No, of course not.  Would it nevertheless allow you to gauge how students, in general, are doing?  Yes, it would. The top students would score as proficient or better.  The students who are performing below grade level would be clustered together with low 0% to 25% scores. But there is a big drawback in using this kind of assessment to guide instruction.
The assumption is that because a test can scale students from weakest to strongest, it is a good test.  Because it can measure growth, schools may only use this type of assessment, which has a very negative impact on students with learning gaps. Because we often have systems in place that fail to address these learning gaps, the impact can last forever, particularly for low-income students, students of color, and students with disabilities; these students have traditionally experienced underfunded schools, institutional bias, inadequate assessment and instructional programs, and ineffective teacher preparedness.
Take math, for example; many urban schools have proficiency scores ranging from 20% to 50%.  What does this mean?  Simply put, it means that 15 to 24 students in a 30-student class are below grade-level standards. For middle school, this translates to these students being 1 to 3 years behind grade level. Thus, these students need personalized intervention.
Few people know that state tests are normative.  The cut score for proficiency has been set below grade level; otherwise, we would see proficiency scores that are politically too low in middle school.  So even students who score at the proficient level may be one or more grade levels behind in middle school.  This means the gaps may be even larger in reality.
In general education classes, using benchmark or standards-based testing only works when the majority of students are at grade level, meaning proficiency levels on state tests of 80% or higher.  But we know this does not apply to the majority of classrooms in urban districts.  Teachers need better data.  The term DRIP is used to describe how useless data can be; it means data rich, information poor.
DRIP occurs when teachers have to rely solely on standards-based tests or on the data that district administrators push on them.  They are given data that doesn't inform their support of students.  You cannot give the same scaffolding to 50% of your students when they are all below grade level.  Yes, teachers can try to differentiate, and some core programs have small group breakouts.  But there is too little time allocated to scaffolding, and the ability of core programs to support personalized learning is generally weak.
IEPs require teachers to identify students' present levels and use them to set concrete instructional goals. Finding present levels means identifying what students can do at the highest level within a scope and sequence of skills and concepts.  Let's Go Learn's digital diagnostics simplify this very significant act.
Innovation and reform often rest on the availability of public funds. Knowing funding sources and requirements is critical to many reform efforts, and Let's Go Learn's education experts can help administrators successfully fund reform.
The three major contributors to educational funding are the federal government, state government, and local sources. Schools, in general, receive about 8% from federal dollars (mostly grants); 48% from state dollars (mostly taxes and fees); and 44% from local dollars (mostly property taxes). Charter schools are part of the public school system, but because of state charter law, they often receive less funding; in some states, public charter schools receive 20-60 percent less funding. Private schools, including religious schools, are primarily funded through private school tuition, but while they cannot directly receive federal funding, they can request opt-in services from public schools.
The Elementary and Secondary Education Act (ESEA) was first passed in 1965 as part of the "War on Poverty." Its goal was to ensure equity among all US students with grant monies for programs and services that support student learning. In 2015, the Act was renamed the Every Student Succeeds Act (ESSA).
The Act is the largest federal funding source for low-income and vulnerable children. It comes from the federal government through the states and then to school districts. The states distribute the money to districts using a formula that aligns with the number of students living in poverty.
These districts must demonstrate that the funds are being put to good use through evidence-based solutions that provide transparency and accountability verified by student outcomes. Annual testing has become the tool for measuring whether states and school districts are meeting expectations and closing learning gaps to achieve universal equity. Let's Go Learn's databases and reporting systems can mean the difference between receiving grant monies and being turned down for lack of accountability.
Response to COVID-19
The American Rescue Plan Act of 2021 will provide K-12 schools with approximately $130B to help support learning recovery. Most of these monies will go to LEAs. These can use the funds to counter learning loss among traditionally underserved students and learning loss in general; education technology; summer and afterschool programs; mental health services; and facility repair and public health protocols to decrease COVID transmission. Evidence-based interventions must make up 20% of the money. Of the $130B, $2.7B is provided for IDEA, Parts B and C.
Let's Go Learn's digital solutions are all evidence-based and can be used in supplemental reading and math accountability systems, specially designed instruction, summer school curricula, afterschool remediation, and homeschooling. Our professional development webinars and training can improve the quality of education through teacher preparation and strategies that develop effective teachers.
Low-Income Students: Title I 
Funds are intended for low-income families and locations in order to increase student performance. To receive these funds, recipients must use research-based solutions. For example, a school could use Let's Go Learn's math assessment and instructional program to close learning gaps and promote equity among students. Eligibility depends on a school's ability to ensure that students make adequate yearly progress (AYP). Parental involvement in school-related activities is also required. Let's Go Learn's parent reports offer a superior way to communicate student progress to parents and serve as a vehicle for discussing academics with students, teachers, and parents/caregivers. Schools receiving Title I funds must also provide funds to eligible private schools. 
Title III: English Language Acquisition
Funds are intended for students who are English language learners to help them become proficient in English. English learners (ELs) typically speak languages other than English but need instruction in reading, writing, and/or speaking English proficiently in order to participate fully in content classes such as math and science. Let's Go Learn offers a Spanish EDELL program that allows teachers to compare students' Spanish skills to their English language reading skills. This program effectively removes vocabulary biases that often lead to a debilitating misdiagnosis of a student's comprehension abilities.
Individuals with Disabilities Act
The Individuals with Disabilities Act (IDEA) was originally called the Education of Handicapped Children Act, which was passed in 1975. In 1990, its name was changed when people with disabilities challenged many of the social assumptions and social barriers related to citizens with disabilities. In 2015,  an amendment was added to the Act, stating: "Disability is a natural part of the human experience and in no way diminishes the right of individuals to participate in or contribute to society." Let's Go Learn offers an evidence-based next-generation special education platform with data-driven, personalized Specially Designed Instruction (SDI) in reading and math for K-12 students. The SDI includes granular diagnostics, IEP-aligned data, and teacher and parent reporting.
For the most part, the states are responsible for educational funding. Most states decide the minimum amount that schools should receive based on a per-student dollar amount (pupil spending). Districts have to assess a percent property tax, and the state uses that figure to determine how much each district must pay to meet the per-student dollar amount. The states make up the difference. For more about how this system impacts districts depending on property taxes and how schools are funded by local taxes, read "How do school funding formulas work?" 
Bibliography for Funding
Family Engagement Initiative
Most public school districts involve families, but often the strength of the program doesn't help achieve positive student outcomes. In their article Family Involvement in Education, K. Bogenschneider and C. Johnson (2015) offer a succinct summary of the significance of family involvement: "When parents are involved, students get better grades, score higher on standardized tests, have better attendance records, drop out less often, have higher aspirations, and more positive attitudes toward school and homework."
While the current trend is to use the phrase family engagement in lieu of family involvement, no matter which term is used, research shows that when family members and caregivers partner with schools, children thrive. Let's Go Learn's family reports provide clear explanations of student learning gaps and progress. Teachers can add optional home activities to improve progress.
The U.S. Department of Education offers resources for family, community, and media on its Family and Community Engagement page. Through this page, schools and parents can find information about the Family and Community Engagement Team, designed to "expand efforts to help schools, districts and states better engage families in education." A recent innovation is a very active ParentCamp, which has been designed to "build a connected school ecosystem of caring and supportive adults surrounding our kids."
Another source of family engagement activities is the page for the National Association for Family, School, and Community Engagement. The page offers information on State Family Engagement Frameworks, Effective State Practices, Statewide Family Engagement Centers, State Leaders Networks, and State Policy on Family Engagement: ESSA State Plans. It also provides access to a new report, State of the States: Family, School, and Community Engagement within State Educator Licensure Requirements.
An international organization for family engagement is FAST: Families & Schools Together. On its webpage, schools can search its databases for federal, state, and local funding opportunities.
Professional Learning Communities
Professional Learning  Communities (PLCs) are part of a 21st-century reform movement. In 2004, Richard DuFour outlined the key concepts of PLCs to structure the goals nationwide. The five "big ideas" as described in his Educational Leadership article are:
Focus on Student Learning

Work Collaboratively

Focus on Results to Ensure Accountability

Keep the Concept Alive through Commitment and Persistence
The Glossary of Education Reform's article on PLCs offers a description of the reform aspects of the communities:
"Professional learning communities are nearly always an intentional school-improvement strategy designed to reduce professional isolation, foster greater faculty collaboration, and spread the expertise and insights of individual teachers throughout a school."
The quality of PLC implementation varies greatly depending on how formal or informal the initiative is. In the best of circumstances, PLCs can be great agents of change as teachers buy in and work together.  They give teachers a voice and a means of formally collaborating with colleagues towards clear goals. In the loosest of circumstances, they serve as a district initiative in name only. Let's Go Learn can provide support for PLCs that are effective and collaborative through online or face-to-face professional development that is customized to district or school needs.
While the term gamification didn't appear in mainstream vocabulary until the 21st century, video games became a powerful learning tool in the 1980s and 1990s with games such as "Math Blaster" by Davidson & Associates and "The Oregon Trail" by the Minnesota Educational Computing Consortium. In fact, they became a mainstay as educators and parents witnessed their power to motivate, engage, and build critical and creative thinking or automaticity.
What exactly does gamification involve? Games developed to entertain contain many elements that are perfectly aligned with games developed for education; these types of games offer serious play. The table that follows illustrates how education can leverage the power of gamification to improve educational outcomes.
| Game Elements for Entertainment | Transfers to Game Elements for Education |
| --- | --- |
| Fun | Serious fun |
| Play | Engagement and intrinsic motivation |
| Rules | Directions |
| Goals | Motivation for game/content |
| Flow | Total focus on content |
| Points | Embedded assessment system |
| Story and Characters | Emotional involvement, long-term memory, and role modeling |
| Badges, stores, rewards | Motivation and self-confidence |
| Players | Collaboration |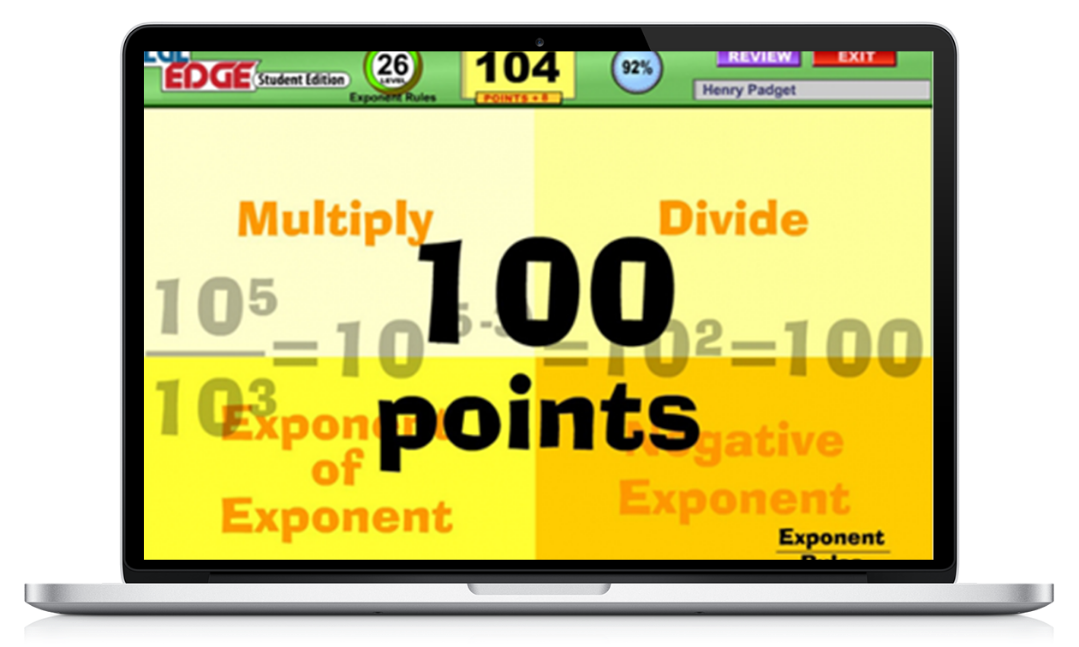 To keep students engaged with content, Let's Go Learn's instructional learning activities provide interactive, age-appropriate instructional support, including songs, graphics, videos, and gamified concept reviews. Every lesson adopts deliberate research-based pedagogical practices to create intrinsic motivation and reward students frequently via real-time positive reinforcement and feedback.
What Causes Reform Efforts to Fail or Succeed
Reform efforts often fail because educators don't analyze the big picture before they zero in on particular initiatives to implement. Sometimes a general overarching model is lacking, and the educational plan is a series of outcomes without a pedagogy.  If goals such as "reading by third grade" or "improved family engagement" are not operationalized for administrators, principals, teachers, and students, then success may never be achieved. The educational plan cannot be just a set of high hurdles wherein departments buy or license programs and solutions in a piecemeal fashion.  
The solution for successful reform is to commit to one or two broad goals and then let departments operationalize the actions that are meaningful for them.  Goals then turn into targets or outcomes that move the needle for student achievement and college and career readiness.  
For example, let's say a district school board's goals are:
to expand and improve personalized learning

to use data effectively to improve student achievement
Then, departmentally, this could happen:
Assessment departments adopt a better diagnostic test and inform everyone that it is available.  Goals #1 and #2.

Math departments add a 7th personalized learning period in middle schools; mandatory flexible Fridays added to all K-5 classrooms.  Goal #1.

Special education integrates the new test into their IEP process, and they research and find a better progress-monitoring tool. Goal #2.

ELA plans small-group instructional training using the new assessment; they commit to sharing the summary reading reports with parents and students because the new assessment has an easy-to-understand report.  Goals #1 and #2.

ELD department adopts a new EL vocabulary program but requires all schools to pre-post this new program, as well as any other program being used, for a common way of measuring growth.  Goal #2
By keeping it simple at the top, districts can avoid initiative overload.  In general, districts have way too many initiatives going on, and thus few get achieved.  By reducing the number of goals and making them broader, the chances of making progress on these goals increase.  Additionally, each department has the opportunity to set specific actions that improve consensus and ultimately buy-in. 
An Inclusion Learning Model
Students Are More than Single Scores: Adopting a Diagnostic Approach to Assessment
Four Ways to Avoid Legal Disputes