Online Math Placement Test and Assessments for Homeschool
Find your child's grade level for every math skill

Our placement test and assessments analyze mastery of grade-level math objectives and identify learning gaps.
For 20+ years, Let's Go Learn has helped homeschool parents teach their children.
Our research-based math scope and sequence offers depth and breadth.

Our adaptive placement test analyzes mastery by topic and grade-level equivalency.

Our reports identify learning gaps by topic and grade level.

Our online instruction uses placement data to assign lessons that close learning gaps.
In addition to math placement, our online platform significantly supports your child's math growth and achievement.
Uses our research-based scope and system for each grade level
Adapts up and down to a child's mastery regardless of child's grade
Offers child a game-like experience as they answer test items
Provides parents or home teachers with easy-to-read reporting
Identifies math learning gaps
Includes skills-based quizzes and subtopic tests to monitor academic growth
Provides optional online learning that addresses specific learning gaps
Let's Go Learn provides homeschool parents with the tools they need to make instructional decisions.
We know the purpose of placement is to advance your child's learning, so we have designed accurate and easy-to-read math placement reports. These are available immediately after your child completes the test. For example, the Summary of Scores Report describes a high-level view of your child's performance.
A legend at the top describes score ranges for each math strand for every grade level.

Math content is divided into five strands: Numbers and Operations; Measurement; Data Analysis; Geometry; and Algebra.
Your child's raw score is shown for each skill in a strand and grade levels are shown for each.
An overall summary of your child's math grade level is included in the report.

Below the legend, skills (called sections) are displayed and an instructional goal for each skill is shown.

Every skill either has a raw score and corresponding grade level or is shown as NT (Not Tested).

As a parent, you can now present instruction at the level your child needs in order to grow math skills, regardless of their age or grade. It doesn't matter if your child is below, at, or above grade level, you have all the information you need to make decisions.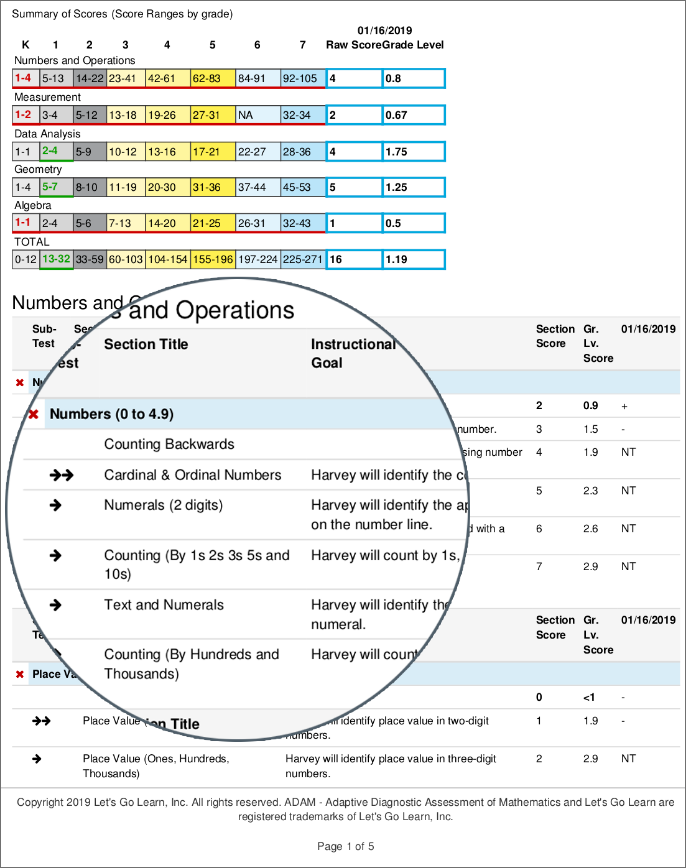 Math Placement Tests for Homeschool Students
Our math placement test for K-7/8 is called ADAM and covers key topics and objectives from our research-based scope and sequence.  Available in English and Spanish.
Our DOMA Pre-Algebra Placement Test will help you determine if your child is ready to begin an algebra course.
DOMA Algebra is not a placement test but an evaluation of your child's mastery of Algebra I skills.
Will ADAM help me understand my child's mastery of math concepts?
Absolutely! ADAM criterion-referenced items provide a deep analysis of math skills mastered by each child and learning gaps that require instruction, unlike other more general screening tools.
Can ADAM help determine what grade-level skills my child has not mastered?
Yes! ADAM treats students separate from their grade level. This means that if your 6th grade child takes ADAM, the diagnostic range will not be limited to 5th to 6th grade, as in many benchmark tests and screeners. ADAM will find each child's gaps across a K-7/8 grade range. LGL can also provide you with an online learning course geared to learning gaps: LGL Math Edge.
Do you have a product that can help me monitor my child's progress in math?
Yes. We have skill quizzes and subtopic retests that provides progress monitoring as your child learns.
How do your math placement tests compare to other placement tests?
All tests are different. It is important to understand how they were designed and for what purpose. Our placement tests were designed to help parents and teachers help students achieve in math by analyzing mastery and learning gaps.