Let's Go Learn Sponsors the 2023 CEC Teacher of the Year
Kensington, CA, March 2, 2023—This week, Let's Go Learn presented a $2,000 cash prize to Dr. Kristie Jo Redfering, the Council for Exceptional Children (CEC) 2023 Teacher of the Year. Dr. Redfering is a special education teacher in Pinellas Park, Florida, and was chosen by the CEC Honors Committee. According to CEC, the honor "recognizes excellence among teachers who provide direct services to children and youth with exceptionalities and who exemplify the best in supporting students with disabilities and/or gifts and talents." In an announcement from her local school board, Dr. Redfering is described as a teacher who strives to build personalized environments for each of her students, as well as an excellent mentor whose door is always open to colleagues. Let's Go Learn representatives Jennifer Clark, Education Consultant, and Olivia Wolfram, Business Development Specialist, presented Dr. Redfering with a ceremonial giant check at the show.
A teacher for 18 years, and a mom to a student at her school as well, Dr. Redfering was surprised as she came into work on Wednesday, Jan. 18, with a red carpet and dozens of coworkers and students lining the halls of her school to celebrate her award. A national CEC team was also on hand to present Dr. Redfering with a plaque and an all-expense paid trip to the CEC Annual Convention and Expo. A gracious Dr. Redfering told reporters at the celebration that, "Nobody can do this job by themselves," and explained that special education teachers do their jobs for the kids. CEC Executive Director Chad Rummel said Dr. Redfering's application for the award jumped out immediately after he read the descriptions and praise her principal and coworkers had for her.
"We are so happy to sponsor the CEC Teacher of the Year as it gives us a chance to showcase excellent educators like Dr. Redfering," said Richard Capone, CEO of Let's Go Learn. "I am excited we can be a part of celebrating Dr. Redfering and her commitment to her students' success." In addition to the $2,000 cash prize, Dr. Redfering also won a $1,000 classroom grant for her school.
CEC is the largest international organization dedicated to improving the success of children with disabilities, with local chapters in all 50 US states. CEC and Let's Go Learn have enjoyed a multi-year relationship, and this year Let's Go Learn is a Gold Sponsor of the organization. Both CEC and Let's Go Learn are currently attending the CEC Annual Convention and Expo in Louisville, KY.
Let's Go Learn, Inc. announced its Gold Sponsorship for this year's CEC Convention & Expo, taking place Mar 1-4, 2023 in Louisville, KY. This convention is the largest annual gathering of special educators in the North America, providing exhibit space for vendors, keynote addresses for attendees, and professional development workshops.
About Let's Go Learn, Inc.
Let's Go Learn is a personalized learning software company focused primarily on MTSS, special education, and intervention programming to support K-12 students. Over 20 years ago, Let's Go Learn pioneered online, computer-adapted diagnostic assessments to determine the learning needs of each student. In contrast to limited screening tools, Let's Go Learn's platform quickly determines student deficits, needs, and causal relationships to help develop individualized learning paths for each student. Millions of students worldwide have benefitted from Let's Go Learn's assessment data, pin-pointed instruction, and robust progress monitoring. The platform is designed to monitor progress from interventions in specific areas, while building detailed reporting and data to support the development and tracking of IEP content and goals.
Media Contact: Richard Capone, 510-455-2098.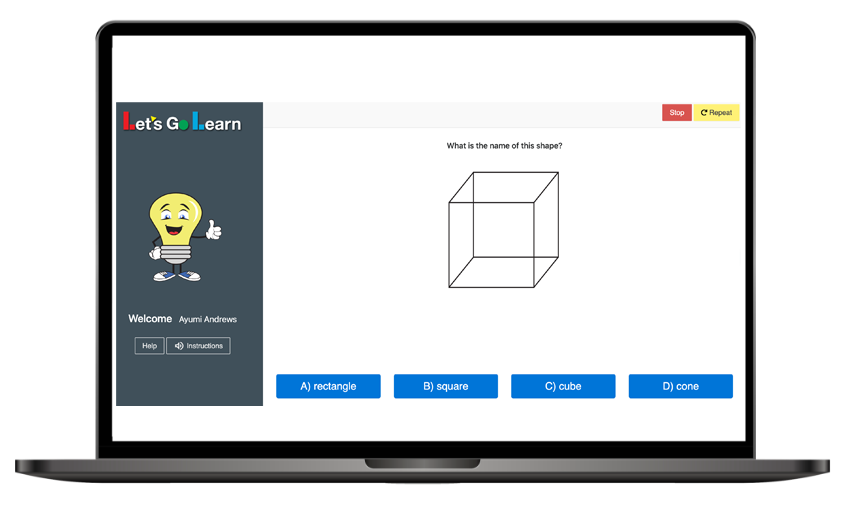 About the Council for Exceptional Children (CEC)
The Council for Exceptional Children (CEC) is the largest international professional organization dedicated to high-quality education that is inclusive and equitable for individuals with disabilities.
Thanks to this year's sponsor, Lets GO Learn. Let's Go Learn provides highly diagnostic online assessments, automated progress monitoring, and gap-focused SDI to help teachers write IEPs faster and with greater accuracy as well as support their students' academic achievements.
Media Contacts Annie Drinkard, 703-264-9455, adrinkard@exceptionalchildren.org
Director of Communications and Publications, Council for Exceptional Children